Exhibition project with Vietnamese artists

April 21 - May 31, 1995 in the Galerie Querformat

1 May - 31 May 1995 parallel in the URANIA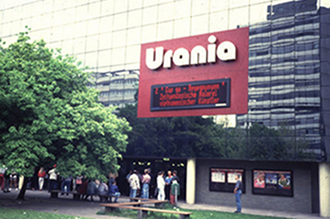 The Galerie Querformat and the Verein Quarts e.V. had set themselves the task of being a forum for art from countries of the so-called "Third World". Projects with artists from Haiti, Peru, Bolivia, Mexico, Senegal, Mali and Benin were carried out. All exhibitions accompanied a program with lectures, readings, music and workshops.

Gap Go - Encounters presented Pham Luc from Vietnam to the German public in 1995. Pham Luc lives and works in Hanoi. His paintings were accompanied by works by Vietnamese artists who live in Germany and have therefore worked under the influence of a foreign culture.

The exhibition was intended to focus on an Asian country which had suffered a long period of wartime and sought an international political-cultural exchange after it had been able to free itself slowly from the isolation it had had after the war. Another focal point was the 20th anniversary of the end of the Vietnam War.

Gap Go also wanted to draw attention to the situation of the Vietnamese, who had come to Germany as refugees or contract workers: to offer a general insight into the life of a foreign culture. But also with regard to the "return" of many Vietnamese to their home country, as well as the prevailing distortion of the "Vietnamese cigarette sellers" and the associated prejudices and shortened representations against the life of the Vietnamese in Germany.

Four completely different ways of life and artistic developments characterize the exhibition's area of ​​tension. All four artists are from the north of Vietnam. Claudia Viet Borchers and Pham Luc began their artistic education at the Hanoi Art School. Claudia Viet Duc Borchers, after her German father, who had originally been living in Vietnam, returned to the GDR, studied at the Kunsthochschule in Dresden. Thuy Bich Vu graduated from the HdK Berlin in 1994.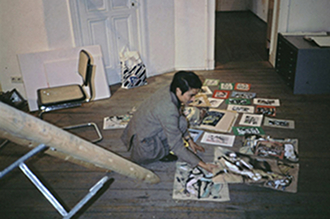 Pham Luc ist ein in Vietnam bekannter Maler, der bereits auf eine Reihe internationaler Ausstellungen zurückblicken konnte. Pham Quoc Bao lebt seit 1978 in Deutschland und war als Autodidakt zur Kunst gekommen. Stilistisch stellte die für Vietnam typische alte Tradition der Lackmalerei, die Pham Luc für seine zeitgenössische Kunst benutzt, den Gegenpol zu den Arbeiten von Thuy Bich Vu dar, deren informelle Malerei am stärksten durch die westliche Kunst geprägt ist.
Die vietnamesischen Künstlerinnen und Künstler wurden in der Galerie Querformat und der URANIA ausgestellt. Dazu parallel, in Zusammenarbeit mit der Dezentralen Kulturarbeit des Bezirks Schöneberg, wurden in der Volkshochschule Fotoarbeiten von Ulrich Meyer unter dem Titel "Vietnam – ein Land im Wandel" gezeigt und verschiedene Veranstaltungen zur Kunst und Kultur Vietnams durchgeführt.