| | |
| --- | --- |
| 1946 | Born in Berlin |
| seit 1972 | Artistically active |
PPeter Gustavus is married to a Zambian woman and has three children.

Peter Gustavus has worked for more than twenty years in development cooperation both at home and abroad. As a development expert in Nepal, Zambia and Lesotho, as well as on his travels to various other African countries, Peter Gustavus learned different ways of thinking and values, different beliefs, different ways of life, and a different logic. He was forced to question his own standards again and again and this left both doubts and confirmations of his own world picture. Through his way of life, his own mode of observation developed and changed with the stranger. From the uncertainty, something familiar, supposedly dangerous, turned out to be merely different. This resulted, in the truest sense of the word, an extension of the horizon and a personal enrichment of one's own life.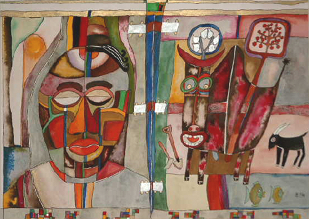 As for most of the people involved in development cooperation, Peter Gustavus's periods of work abroad were his most interesting periods of life. He was able to gain an above-average experience, mastered more challenges than ever before and experienced things he could never have experienced at home.
Such an intensely experienced time reflects every human being in very different ways. On the other hand, this happened with Peter Gustavus in his developmental activity in Germany, on the other hand in his artistic work, in which he takes up and processes a great deal of experience and experience in Africa.
About the painting:

While in the early years mainly abstract and graphically designed paintings influenced Peter Gustavus' work, the African influences on his painting have been increasingly evident since the mid-eighties, both from color design, as well as from style and themes. The many trips and work stays, but especially his family ties to Zambia, are certainly the reasons for this. Among other things, he deals with people's relationships with their ancestors and the "African spirits", or expresses their own efforts to look at things as they perceive a black one. He explores ancient and contemporary African artists, taking inspiration from ancient rock paintings of the San and Khoi Khoi, as well as from today's Shona and Makonde sculptures. Most of his paintings are reflections of his time in Africa. With them, on the one hand, he wants to stimulate the imagination among the viewers and viewers, encourage them to interpret the works individually, to look at them as intellectual dialogue partners, to help them embark on a journey of thought and feeling into another world and time; on the other hand, he wants to "paint" the image of Africa, which is spread here, of the three great K's - wars, catastrophes and diseases - for the wisdom and knowledge, the beauty and tolerance of mankind, mythology and history, but also the natural wonders of this continent make it a different Africa picture, which is also there and at least equally worth to be presented here.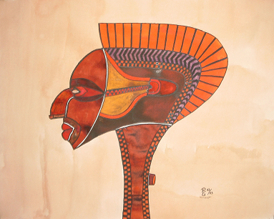 His current work is often a mixture of surrealism from his African-European world of thoughts and feelings and real reflections of his experiences in and with Africa.