| | |
| --- | --- |
| 1961 | Born on the peace line between Sant 'Ana do Livramento in Brazil and Rivera in Uruguay |
| 1973–1975 | Teaching in Fine Art with Professors Alberto Ielisich and Osmar Santos |
| 1977–1980 | Studied painting with Professor Santos at the ASPES school of the University of Sant'Angelo of Livramento and with Professor Britto Velho at the Livre da Prefeitura de Porto Alegre workshop, Brazil |
| 1989 | Relocation to Berlin and opening of the first studio |
| 1990 | Discovery of the paper Antaimoro on a trip to Madagascar, which has since been an essential part of his artistic work |
| 1990–2000 | Befassung mit der Philosophie "Für die harmonische Entwicklung des Menschen" im Rahmen einer Studiengruppe des Vierten Wegs |
| 1996 | Studienseminar in der Kathedrale von Chartres, Frankreich |
| seit 2000 | Zunehmende Arbeit als künstlerischer Leiter und Dozent von Workshops mit Kindern, Behinderten aller Altergruppen und Teilnehmern aus sozialen Randgruppen in Brasilien und Deutschland |
| 2002 | Eröffnung eines Atelier in Porto Alegre, Brasilien |
| 2010 | Verlegung des Ateliers nach Buenos Aires, Argentinien |
Since 2010, Gustavo da Liña has been spreading his working and living worlds between Berlin, Buenos Aires and Brazil.

 

Picture magic and room magic

Works by Gustavo da Liña in the Brazilian Embassy

Whoever enters the showroom of the Brazilian Embassy in Berlin will be surprised. The sober hall, also conceived for receptions, has turned into a meditation space. A Muslim temple in the worship without devotion and melancholy. Rather, Gustavo da Liña's works of art convey something elevating and cheerful, enlightening and moving. They captivate the viewer and create an artificial space of color and light, which is subordinated to the given architectural coordinates. Since Liñas's works are not just hanging on the wall, they are also placed in the room, so you can walk around them and feel them too. At the same time, they allow new perspectives to arise, through which wall divisions are accentuated and new visual focuses are set.
Gustavo da Liñas's work moves between different worlds. When Gustavo Castro was born in a border town between Brazil and Uruguay, the line of peace, which the artist shows in his new name, becomes a formative experience and a mental stimulus. Since fifteen years in Berlin resident, Liña is always also a traveler and on the search. A stay in Madagascar brought him into contact with the people of Antaimoro, who had immigrated from Arab countries a long time ago. The hand-crafted paper they used, to which the shamans assigned magical powers, became from then on the central image-bearer, and still more, the material forming and determining the image. A visit to the Cathedral of Chartres led him to the Cretan labyrinth, which he included as a further element in his art.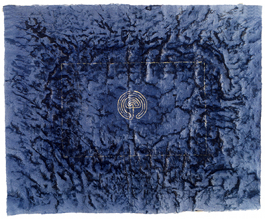 Marginal experiences mark the art of da Liña. They are transcended and balanced with aesthetic means. As works on paper, the exhibited works correspond to paintings. Because of their haptic qualities, which are intensified by deliberate lighting, which are evident in the preprints, and their frameless, partly freely suspended presentation, they simultaneously correspond to objects - are image bodies. The forms of the circle, the square, the labyrinth, or the calligraphic signs are forms made by man. Due to the material, colored structures caused by brush application, however, remind us of nature. From this fundamental tension of the works can be derived others: the between mind and matter, nature and technology, peace and movement, interior and exterior, light and shadow, time and space, Here and there, The and Beyond.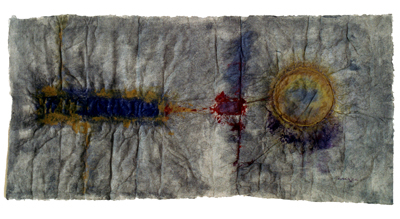 Sensual, even erotic associations with nature and elements are manifold. One remembers the skin and the bark, the earth and the rock, the fire and the water, the bodies of heaven and light. Amorphous, rough yet delicate structures as well as pulsating color represent clear geometric shapes, the rulers of the rational - scales, in order to bring order into chaos. They are interwoven into a whole, open up, as it were, to other spheres, are lines which guide the movement of thoughts to cross-border experiences. In spite of representational grace, the emptiness of the pictures is impressive. She receives and draws as magically. Elementary forces seem to be banned in her. An act of creation shines forth and grasps our senses and sensations.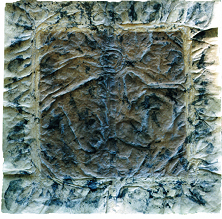 Since Liñas works have a meditative character. They stand in a long tradition of modernity, transforming pictorial means into bearers of spiritual forces. The development ranges from the suprematist original form to the light objects of the ZERO artists. Lucio Fontana with slit-screen canvases, Yves Klein and Gotthard Graubner with color bodies and Antonio Dias with enigmatic signs are aesthetic-spiritual relatives. Since Liña has created his own world of images in a persistent development into which archaic and cultic elements enter into an artistically free transformation. Harmony, concentration, and collection are at the center of his work, creating an atmosphere that rises out of everyday life in an encompassing overall setting.

Michael Nungesser, art historian
(28 November 2004)